Networking Events
Port and Logistics Companies to meet
BRAWAL SHIPPING (NIG.) LTD

GMT Shipping Nigeria Limited

CHRISMATEL SHIPPING CO. (NIG) LTD

MICHELLE NIGERIA LIMITED

Duncan Maritime Ventures (Nig.) Ltd. 

INLAND CONTAINERS (NIG.) LTD

INTERNATIONAL TRADING & CONTRACTING LTD

Mid Maritime Container Terminal

MIGFO NIG. LTD

PALM LINE AGENCIES NIG. LTD

SAPID AGENCIES LTD

SIFAX OFF-DOCK NIGERIA LTD

MURPHY SHIPPING & COMMERCIAL SERVICES LTD

Savol West Africa Limited 

AML Bonded Terminal

COASTWISE LIMITED

Clarion Shipping West Africa

DON CLIMAX VENTURES LTD 

Dorman Long Engineering Ltd, 

National Engineering & Technical Company Limited (NETCO)

Lagos Deep Offshore Logistics Base (LADOL) 

Westminster House

Nigerian Railways Corporation (NRC)

BUA PORTS & TERMINAL LIMITED

APM Terminals Apapa Limited

Five Star Logistics Ltd

Greenview Development Nigeria Ltd (Dangote Group)

Apapa Bulk Terminal Limited (ABTL)

Intel Nigeria Limited,
Bonny Channel Company Limited

Lagos Channel Management Ltd. 

African Circle Pollution Management Limited

Rivers Port Complex

Nigerian Ports Authority

Lagos Port Complex

Tin Can Island Port Complex

Port and Terminal Multiservices Limited (PTML),

The Ports of Warri

Onne Port Complex 

Nigerian Shippers Council

Damco Logistics Limited

Lilypond Container Depot Nigeria Ltd 

Josepdam Ports Services Ltd 

Tin Can Island Container Ltd 

Ports & Cargo Handling Services Ltd 

Five Star Logistics Ltd 

Port & Terminal Operators Nig. Ltd 

Integrated Logistics Services(Intels) Nig. Ltd. 

Lafarge Africa Plc, 

Addax Logistics Nigeria Ltd 

ATLAS Cement Company Limited 

ASSOCIATED MARITIME SERVICES LTD. 

Julius Berger Plc. 

Greenleigh Limited 

Associated Marine Services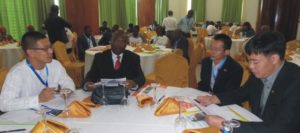 Business Networking
Sponsored business networking meeting is employed in NIMPORT to close the gap between buyer and provider of equipment and services. Such meetings are customised to facilitate trade.