EXHIBITION REGISTRATION (PLEASE READ & FILL THE FORM BELOW)

NIMPORT 2018 expo will showcase developments in maritime ports, terminals and allied businesses covering technologies, construction, finance, insurance, suppliers, planners, consultants and services in marine transport and logistics sectors. It will offer business leaders the opportunity to promote their products and services, connect with investors, increase visibility within domestic and international markets and network with other industry leaders.
Exhibition Floor Plan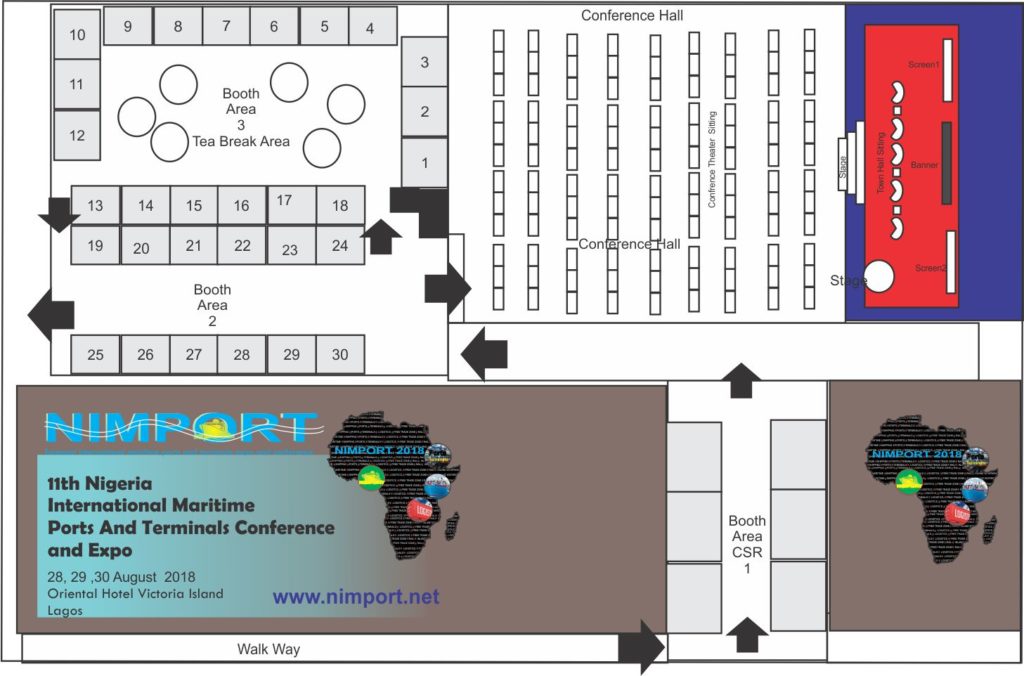 Who You Can Meet At NIMPORT
Companies doing business with the ports
Businesses operating at the ports
Port executives
Maritime business owners
Clean technology entrepreneurs
Clean technology investors
Maritime technology companies
Engineering and technical services companies
Government officials Maritime-related associations
Business service providers
Community and civic leaders Engineering firms
Universities and academic leader
BENEFITS TO EXHIBITORS
Flyers reach over 2000 recipients.
Announced in over 10 print media, as press release and adverts both in local and International journals .
Online website banners.
Support independent seminar activities.
EXHIBITION BOOKING FORM
EXHIBITION BOOTH PRICES $280/sqm
Standard booth:- Comes with two seats, a table, light point and named facial board. For Special design of both are also on request.
NIMPORT 2018 PROGRAMME OUTLINE IS UNDER CONSTRUCTION
Day 1: 22nd August 2017
9:00am – 11:00am
Registration
Arrival of Guest
Call to the High Table
Welcome Address
keynote Presentation
Special Guest Address
Goodwill Address
Open Declaration
11:00am – 12:00noon
12:noon – 01:30pm
01:30pm – 02:30pm
2:30pm – 04:00pm
Day 2: 23rd August 2017
9:00am – 11:00am
Speaker Session Paper Presentation
11:00am – 12:00noon
Exhibition Visit and Tea Break
Tea Break
12:noon – 01:00pm
Speaker Session Paper Presentation
01:00pm – 02:00pm
2:00pm – 04:00pm
 Speaker Session Paper Presentation
Day 3: 24th August 2017
9:00am – 11:00am
10:00am – 11:00am
11:00am – 12:00noon
Remarks, Voting and Communiques
12:30pm
Payment is required to authorise this booking, All payment must be made in advace to:
Nigeria Account Name: All payment in Nigeria currency
can be made in draft and cheque in favour od FCI International Ltd. Direct bank payment can be made to F.C.I International Ltd Account, Zenith Bank Plc, Account Number: 1010381512 Sort Code 057150165 Tin No.: 02244099-0001 Allen Avenue Branch Ikeja Lagos. For all other form of payment including international wire transfer and domicilation account. please call Tel: 234803329108