Press Release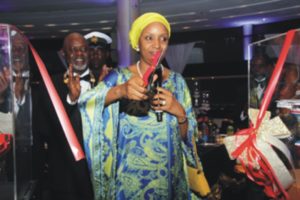 Managing Director, Nigerian Ports Authority, Hadiza Bala Usman cutting the tape on behalf of the Hon. Minister of Transportation, Rotimi Amaechi, to flag off the inauguration of the Shipowners Association of Nigeria (SOAN) 100 Cadets Training Berth Scheme, at a Gala night organized by the Association in Lagos recently. Standing by her is the president of the Association, Mr. Greg Ogbueifun.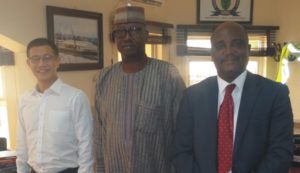 From the projection reaching the maritime media , National Inland waterways Authority will soon be taking the rightful place in waterway development if the effort that is currently been made by the Managing Director Engr, Boss Mustapha to reposition the agency meet the expected the success. This coming from the meeting with Chairman of NIMPORT, Nigeria International Ports and Terminal Development Promotion group, Mr Fortune Idu, who was at the NIWA headquarters to begin discussion on the NIWA future programmes and how it will be capture in the development promotion plan for NIMPORT 2017.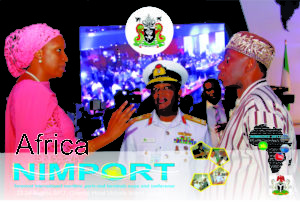 The Managing Director, Nigerian Ports Authority (NPA), Hadiza Bala Usman (left), explaining a point of interest to the Honourable Minster of Transportation, Rt. Hon. Rotimi C. Amaechi, and Chief of Naval Staff, Vice Admiral Ibok Ekwe Ibas at the Association of African Maritime Administration (AAMA) annual conference in Abuja recently.
A new standard was set yesterday on home grown support for indigenous development and investment promotion initiative by NPA as they emerge NIMPORT major partner and co-host. With the approval given by the Managing Director of Nigerian Ports Authority (NPA), Hadiza Bala Usman, NIMPORT Conference and Expo which is a Nigerian brand is set to bring all port terminals, logistics free trade zone and ancillary operations under one roof to network on developmental matters and attract investment.