General Information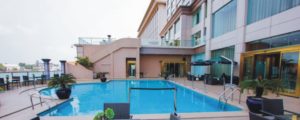 The venue: Lagos Oriental Hotel is a known five star hotel located
at No. 3, Lekki Road, Victoria Island, Lagos, Nigeria. 45 minutes drive from the Murtala Mohammed international Airport. The hotel is close to Lagos beach and 10 minutes drives to the Eko Atlantic City.
 Hotel room are priced from $130.
Weather
In Nigeria, August is in the raining season of the year with a mild temperature though humid with average temperature of 25° C. It is often cool in the evening time.

Currency
Nigeria currency is Naira which is accepted everywhere in Nigeria for buying and exchange.
Money 
The exchange of Dollar is the most common international currency exchange in Nigeria but you can also change British Pounds and Euros easily. Interbank exchange rate
may differ seriously from the street market. MasterCard and visa credit card can be used also. – 1 USD = 350 Naira Exchange offices exist in all banks and airports. 
Other Hotels within
Single room
$50  
Double room
$70:  
Triple room: $85
Airport
Murtala Mohammed International Airport Ikeja Lagos is serviced daily by many international flights from the major cities of the world. The airport host local, regional and international flights with the local terminal within 10 minutes drive from the international terminals.

Airlines
Nigeria local Airlines
DanaAir, Arik, Aero, First Nation, IRS and Medview, Airpeace.
The following international flights from the major cities of the world come to Lagos airport; Virgin Nigeria, Arik Airlines, Air FRANCE, KLM, British Airways, Ethiopian Airlines, Egypt Airlines and Emirates.

Transportation
Airport taxi and ubar taxies operate effectively in Nigeria and you can book ahead of time or contact the organiser to arrange transportation at least 72 hours before arrival.
Please inform us about your arrival/departure. Send details to: Email info.nimport yahoo
.com Or Call (+234) 8033296108
Language
Conference language is English and Nigeria is an English-speaking country.
Visa
Most countries visitors need visa to visit Nigeria. The Nigerian embassy or high commission in a visitor's country will issue visa before departure. Visitors from EEOWAS countries can travel into Nigeria without visa.
The organiser will send specific letter of invitation to all registered delegates, speakers and exhibitors to enable them obtain visa or have access to the country.
Application for visa must sought directly from the appropriate authorities and application should be made at least 30 days before the date of departure.

Security and Safety
Lagos, the Nigeria commercial capital is a relatively safe and secure place to live and work, with no political conflict, youth agitation, communal clashes or religion problems . It is one of the fastest growing commercial cities in Africa with industries and real estate developments owned or managed by a mixed multinational and indigenous companies. There is no movement restriction and the event venue is secured .